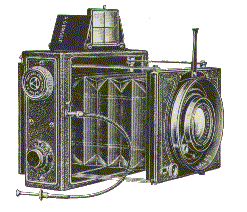 We Buy Cameras!
Suprised?
---
Yes, we do buy cameras. As we sell stuff we accumulate a surplus of money and space. People do contact us about selling us stuff. We are geared more towards collectible equipment, but will pretty much buy anything we think we can resell.
If you have equiptment you'd like us to consider, please send us an email with a list of what you've got, with photos if possible. We will make you a ballpark offer on it. The more information we have, the more accurate the offer will be.
It is impossible to make a fair firm offer without inspecting the equipment. If you want to sell us your equipment, you will need to send it to us. We will check the equipment out and make you an offer. If we do not come to terms, we will return the equipment to you at our expense (that way we would each be out shipping one direction).
Should you decide to send it to us, please be sure to include a note with contact information (name, address, phone number and email address). It creates a lot of problems when we receive a box of cameras without any way to contact the owner. And it happens surprisingly often. Also, please let us know to when expect it.
Our shipping address is:
Pacific Rim Camera
PO Box 1589
Silverton OR 97381
If you wish to discuss this further we can be reached by phone at 503-370-7461.
Thanks,
Mike