Photographica Pages
An online guide to collectable cameras and related stuff
---
50/1.5 Zeiss Sonnar for Contax


A black and nickel (Type 3) 50/1.5 Sonnar in Contax mount.
When the Contax was introduced in 1932, one of the biggest worries at Wetzlar must have been the 50/1.5 Sonnar. Leitz had just released their speed lens, the 50/2.5 Hektor the year before. And Zeiss had beaten it by more than a full stop! This was an era when lens speed was critical. Film was slow, and high speed lenses allowed you to take pictures in lighting circumstance that slower lenses were not going to capture.
It's interesting that although they took an early lead, this was to be the fastest lens they ever built. It wasn't beaten until Nikon introduced the 50/1.4 in December of 1950 (and the race was eventually won by Canon, with their 50/0.95 lens).
It was also a lens with good performance, you really didn't sacrifice anything (except some hard earned cash) with this lens over one of it's slower brothers.
The lens was first introduced in 1932 in black and nickel finish. To avoid contrast problems due to defraction, the lens was limited to stopping down to f/8. The aperture ring is in the center of the lens. The lens is not threaded for filters.
The second version was slightly different cosmetically, and can be identified by the minimum aperture being changed to f/11. This version dates to 1934.Serial numbers range from roughly 14209xx to 1628xxx.
In 1935 The lens was changed, the aperture ring was moved to the nose of the lens, and there are two little finger grips. The minimum aperture was changed again to f/16, the front rim was threaded to accept 40.5mm filters, and the barrel was finished in a mix of black paint, nickel and chrome. Serial numbers run up to about 17309xx.
Later that year they changed the design yet again. It was identical to the third version, except it was finished entirely in chrome. This is the most common prewar design, and also when they started coating the lenses. It was not done consistantly, but it started around lens number 2520300. Lens numbers run up to about 2800000.
During the war, a number of odd variations were produced, usually due to shortages of certain materials. In 1941 a version was produced with an aluminum aperture ring, and a nickel plated barrel. In 1942 other variations were produced, the first with a black filter ring. And a second in which the entire barrel was made from aluminum. And in 1943 a chrome lens was built without the finger grips on the aperture ring, and of a design that would reappear after the war.
The first lenses to come out of Jena after the war had serial numbers over 3000000. The earliest ones were aluminum, followed by chrome plated brass.
Zeiss Ikon was split in half after the division of Germany into east and west sections. West German Zeiss resumed lens production in Oberkochen, and in 1950 they released the first 50/1.5 lenses, which were marked Zeiss-Opton. This began the use of a double set of aperture blades, which stopped down to f/16. These lenses were chrome over brass, had a new optical design.
In 1951 the lens was give a new black filter ring. Although all of the are coated, late examples may lack the red "T" on the beauty ring. The next year a small batch were made with apertures that stopped down for f/22. The final type of lenses were built in 1953. They were no longer marked Zeiss-Opton. Zeiss Ikon had won the rights to the prewar trademarks, and the lenses were now marked Carl Zeiss. These lenses went back to having a minimum aperture of f/16, and serial niumber started at 1164801.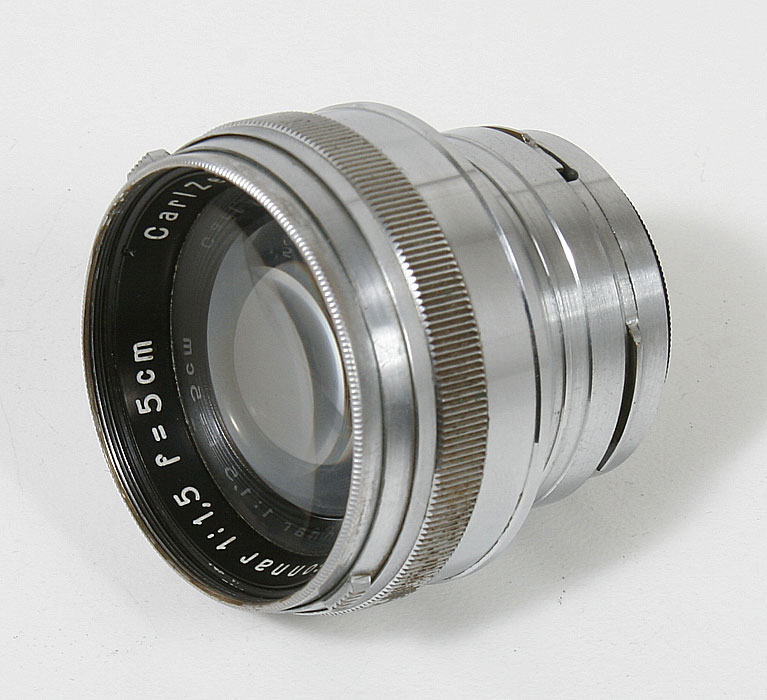 A prewar 50/1.5 chrome Sonnar.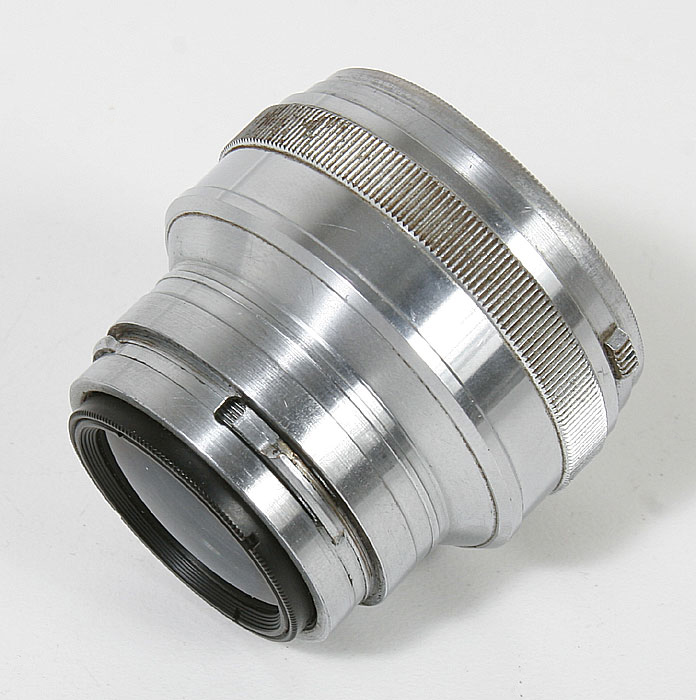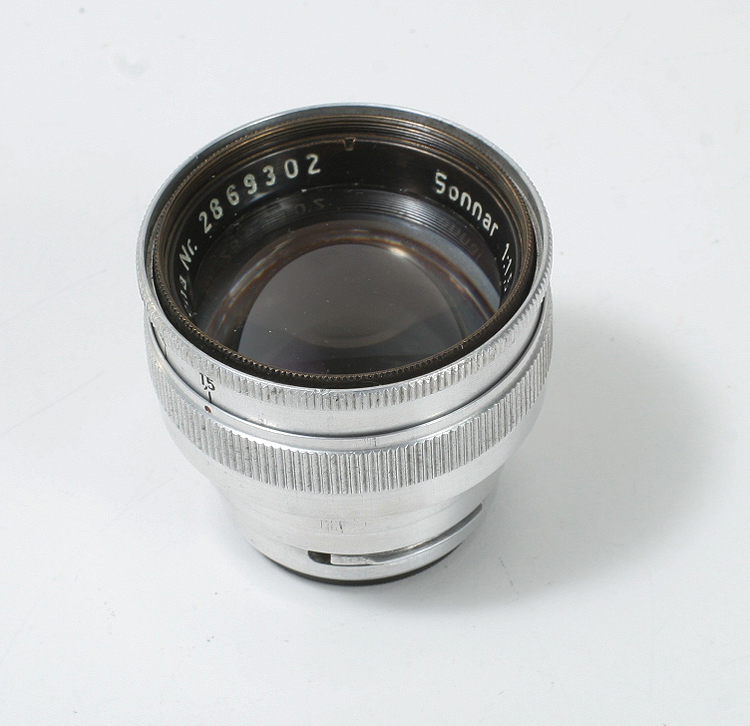 A wartime example.

The final version of the lens, with it's shade and rear cap.